Over a century of industrial history…
Founded in 1913 near Paris, the NICOLLE® factory forges and stamps metal disks.
For the needs of his staff, Paul-Henry NICOLLE designs and manufactures a functional and sturdy workshop stool.
He uses a metal stamping process to manufacture each piece guaranteeing lightness and elegance.
Three legs and a circular seat are spot-welded.
An elegant metal backrest ensuring comfort and support will give rise to the Nicolle® chair.
Paul-Henry NICOLLE decides to market his production of metal seats to the neighbouring factories and then very quickly to those all over France.

It is the beginning of a great industrial adventure.
Thanks to its comfort and its ergonomics, the backrest that is already nicknamed "the whale tail" will ensure the fame of the Nicolle® chair.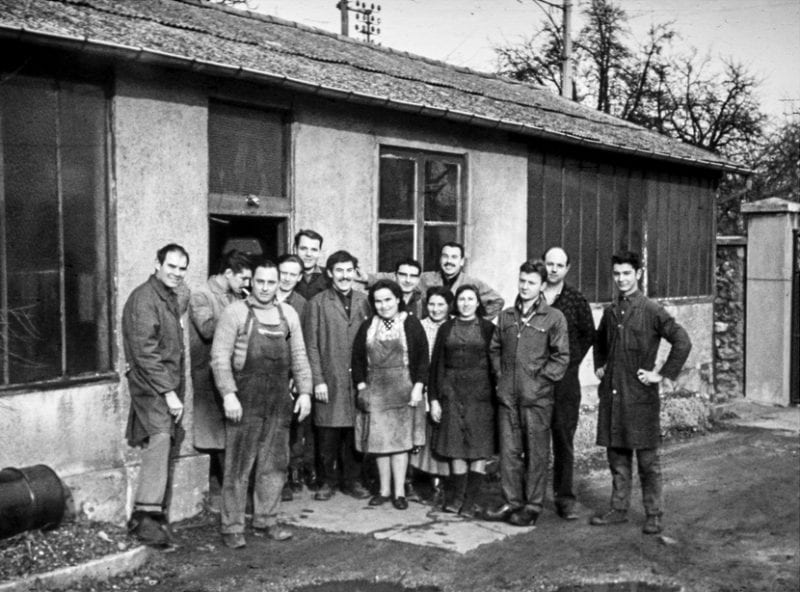 Establishments NICOLLE® are sold to Fichet-Bauche, which refocuses the company's activity around the manufacture of safes. Mr FELIX, then workshop manager, decides to found his own company in order to continue the French manufacture of the famous chairs. He buys the production tools and settles in Neuilly-Plaisance.
Manufacturing is restarted. The presses and tools are refurbished in absolute respect of traditional techniques.
The name NICOLLE® and all the models are registered worldwide and these seats 100% made in France will now be exported all over Europe, America and Asia .
A rich Epoxy powder coating of more than 200 RAL colors will now dress the collection.
Nicolle® chairs and stools will appear in restaurants, cafeterias, bistros, delicatessens, kitchens but also offices, showrooms, stores and work spaces.
Metal and Loom models are born!
The LLOYD LOOM fiber baptized in 1917 by its American inventor, MARSHALL BURNS LLOYD, is stronger, softer and more comfortable than rattan.
is stronger, softer and more comfortable than rattan.
It is made of KRAFT paper wrapped around a galvanized wire, woven and then varnished.
It now covers the seats of Nicolle® chairs!